How Strong is Our Magnet?
Game mechanics are magnets, attracting players to try out the experiences designers craft. From strategic tower defenses to idle roguelikes, core loops emerge from gameplay. These loops hook players and keep them enticed. Then designers identify opportunities for monetization which fit naturally with these loops.
But for simple slot machine games such as Coin Master (by Moon Active), their magnets can be hard to understand. In this blog post we'll explore how Coin Master goes beyond slots to hook players and keep them spinning. Symbiotic milestones, timed opportunities, and social sharing are some of the tricks used. Games of any genre can learn from how Coin Master uses these techniques!
Gameplay Rundown
In Coin Master, players use a "Spins" currency to spin a match-3 slot machine. The rewards range from gold to activating gameplay systems such as raids and attacks. Players spend gold to upgrade village decorations. As players complete villages, they progress to new villages with increasing gold costs.
Completing villages unlocks Card Chests containing a selection of cards belonging to sets. Players have a limited amount of "Spins", but there are chances to earn hundreds or thousands of spins. This gives the player opportunities to get lucky long play times with huge wins.
Milestones Here, There, and Everywhere
Coin Master provides rewards across many milestone systems. These milestones relate to different gameplay systems such as Tournaments and Events. These events tie to the core gameplay. Raiding increases tournament milestones, and special event milestones increase on other slot matches.
Different reward milestones line up harmoniously or at different intervals, creating good pacing. When many milestone systems progress at once it creates gratifying reward windfalls. Each milestone system has a start and end time, so players know when the next influx of rewards will be. This acts as a magnet to pull players back into the game to catch the next high.
Create Opportunists from Opportunity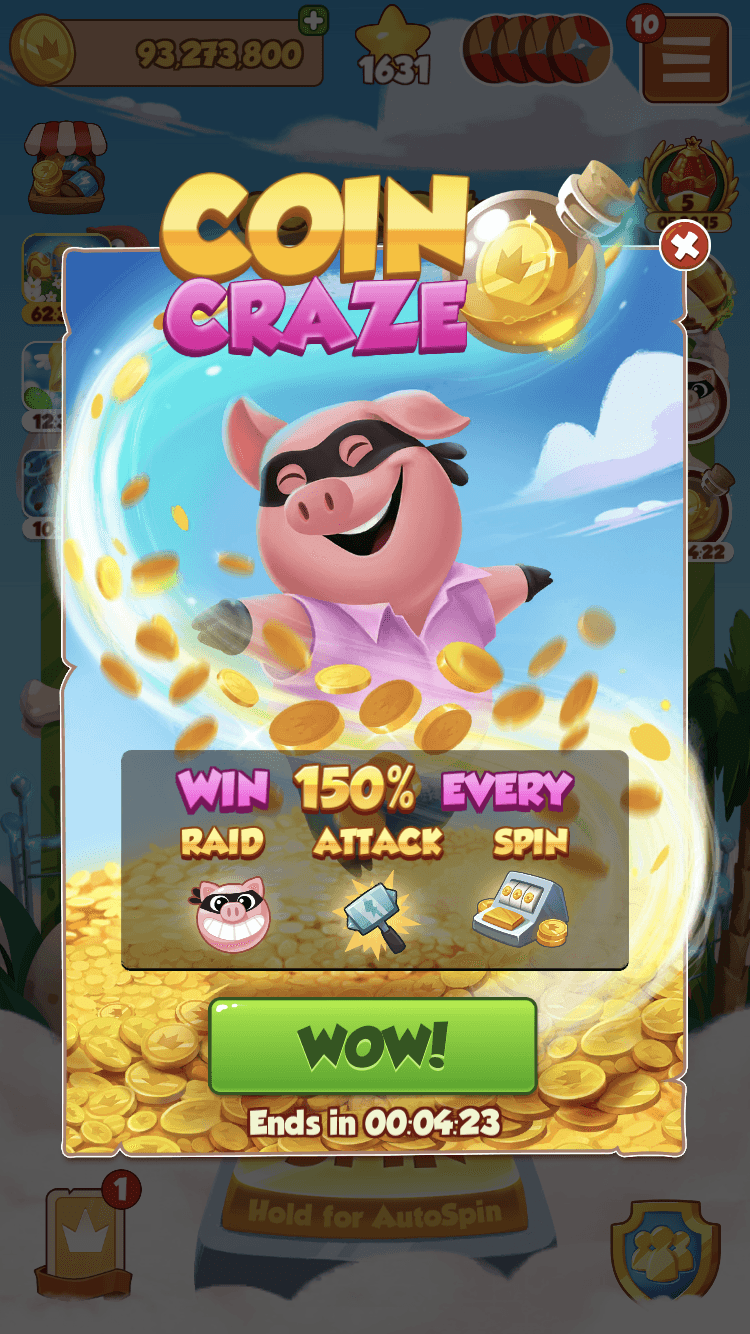 Coin Master creates opportunistic moments with short, time-gated booster events. Players can apply strategies that take advantage of these opportunities. This creates the feeling of outsmarting the game by being an opportunist. For example, timed "village completion boost" events multiply rewards for completing a village. Players feel clever completing more villages during the boost period to maximize rewards.
Having these types of events creates an environment where every time the player logs in they can form a plan. Based on what boosts are about to begin or end, they can manage currencies and maximize gains. This is another magnet, pulling players into the game loops.
Welcome To My Shop, Let Me Show You Around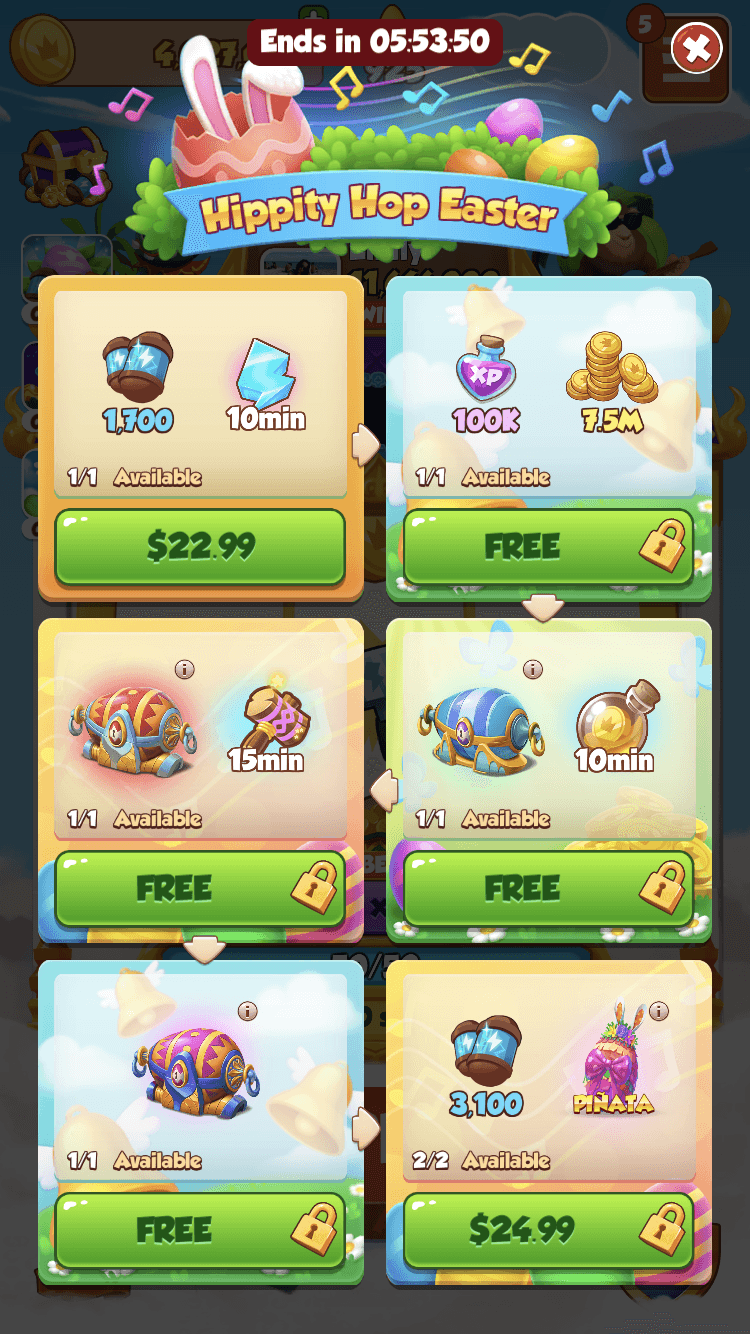 If you've ever taken a stroll through a market, you'll likely have experienced hawking from stall owners. By throwing out many offers, there is a small chance one will catch. Coin Master utilizes this throughout a player's time in the game. There is a constant rotation of limited edition, gated, and achievement item packs. The prices range from low to high, giving a wide range of options to players.
The multitude of options may overwhelm players. Thus it's important to surface these only at the most opportunistic moments. Coin Master offers these item packs to players when they run out of spins, for example. The item quantities in packs are also varied. This allows players to "deal hunt" for buying opportunities they feel give the best bang for their buck.
We Grow Stronger Together
Coin Master exemplifies the term "the more the merrier." Amassing a friends list and participating in an active team is a direct benefit to the player. The game encourages you to invite friends by giving rewards for inviting new players. Friends can also gift free spins and coins to each other daily. You can even request extra cards from guild mates.
These teamplay benefits make it rewarding to return to the game daily. By tying value to guilds and friends, the game utilizes their massive player base to spread the game around. The player base snowballs, attracting more players through recommendations from friends.
Coinclusion
At its surface, Coin Master is a random slot machine which may be dissatisfying at first spin. But looking past the slot machine, we find that the game offers a lot of powerful magnets. Aspiring game designers can add these to their toolset when designing any genre of game:
Use synergistic milestones integrated in the core loop. Players will encounter moments of reward windfalls, generating gratification peaks.
Create frequent timed player opportunities. This fosters a feeling of outsmarting the system in players.
Offer an abundance and variety of timed bundles. Surfaced at the right time, it can lure players who are on the brink of a purchasing decision.
Reward players for community participation. If players can amass friends as a strategy, it will help your game spread.
Through their tactful use of these systems, Coin Master becomes more than a slot machine. Their powerful magnets hook onto players and keep them playing for one more spin.
Join The Team
Here at Funovus, we love to explore and study successful mobile games. We share our insights amongst our team to level up our collective experience. Through our open collaborative efforts, we can grow and make better games together. If these types of discussions appeal to you, check out our open positions at https://www.funovus.com/careers